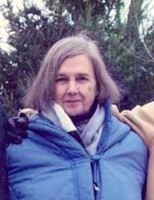 Elizabeth A. McCleary
1946-2013
Elizabeth A. McCleary, 67, of Cedar Rapids, died Wednesday, Nov. 6, 2013, at St. Luke's Hospital. A Memorial Gathering will be held at Stewart Baxter Funeral & Memorial Services on Sunday, Nov. 17, from 1 to 3 p.m.
Liz is survived by her son, Jack (Gilda) McCleary of Cedar Rapids; grandchildren, Maxwell, Kaitlynn and Jackson; a brother, Jeff Gooding; and many other family and friends.
Liz was born Feb. 11, 1946, in Los Angeles, Calif., to Orville and Anna Gooding. She was an avid reader and her special joy was baby-sitting her grandchild, Max.
Memorial donations may be directed to the family.
Please leave an online condolence for the family at www.stewartbaxter.com under Obituaries.
From Stewart Baxter Funderal & Memorial Services
Published Nov. 10, 2013 in The Gazette, Cedar Rapids, Iowa