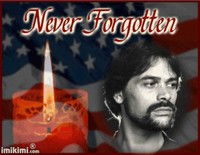 Chris Wing
January 4, 1944 - December 15, 2017
Forever young, hilarious, gentle, witty, inspirational, supportive, encouraging, brilliant. My heart is broken… He won't be forgotten… These are just a few of the remarks posted from his many Facebook friends these past two days. Many of Chris's long-time friends would know that he was born Paul Wing on January 4, 1944, adopted as Paul Cranfield at the age of 5, and later changed his name to Chris Wing (Chris because he liked the name, and the Wing is obvious). One of our childhood friends posted on another site that "It seems that we had Paul in our innocence but the world had Chris. He was an actor a musician and a friend in our Facebook world." He was an amazing guy with an amazing life, doing many different jobs but always creating with his talents and intelligence. He was quite a writer and I often encouraged him to publish his work or share with others. If any of you were able to read any of his stories, you know what I'm talking about. It's hard to believe he is gone from this world but he will be remembered by many and still loved by his family (yes he had family active in his life). He was generous to a fault and in later years when we would send him cash gifts or support, he had to be reminded that the money was for HIM as he needed it, not to give to the guy on the corner who he felt needed it more. He always supported the underdog - that was the kind of guy he was.
Chris wanted to donate his body to forensic studies (body farm in Texas) – doesn't that sound just like him!? But, he failed to make arrangements for this (doesn't that also sound just like him?) and we have been stymied to further this endeavor for him. So, he will be cremated with the ashes sent to our sister Carol here in California and his family will spread the ashes at sea where Chris helped to do the same for our parents just four years ago.
We are all going to remember him in our own way. I'll be remembering him as a loving brother, his witty remarks, his tremendous intelligence, his generosity with all people, his sometimes troubled soul, his musical talents, and his crazy life. His family finds joy in that he experienced so much happiness these past few years living with Karen and working with all the puppies and dogs they helped along the way. He found tremendous love in his dog Piper (who is waiting at the door for him to come home). He was a cat person for his entire life, never having a dog, and I think that made Piper even more special to him.
If you wish and/or are able to memorialize Chris in any way, he would appreciate your donations and support to the 4 Paws Society in care of Karen Kinslow at 1316 Ford Street, Lake Charles, LA 70601. (If you decide to make a contribution, please send directly to Karen for she does not have access to their PayPal right now as Chris handled all of that.)
Thank you for being his Facebook family. It was so wonderful he had this forum to communicate with so many. From his family, Alaine, Carleton, Carol, and Connie.
Memorial courtesy of Alaine Steuk
Photo courtesy of Jill McBride