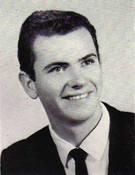 My father, Bill Palmer:

Born Aug 3 1945
Died June 2 2012

He is survived by his wife Nancy, two sons William the 3rd and myself. Grandsons Elijah, Ethan and Connor. Brothers John, Mike and Larry. He worked as computer programmer for companies such as IBM, Net Manage and Netsoft.

He had a love and passion for collecting various items. He was quite the hobbyist. His favorite sport by far was baseball and he loved jamming on the guitar.
He was inducted into the US Army on October 26, 1965 and discharged on August 30, 1967.
Bill
served in Vietnam and received the following: National Defense Service Medal, Good Conduct Medal (1st AWD). Vietnam Service Medal, Army Commendation Medal, and Vietnam Campaign Medal W/60 Device. He achieved the Rank of SP5 (T) and was Honorably Discharged. His service in Vietnam may have contributed to his development of cancer, as he regrettably suffered and passed away from Malignant Melanoma
Although he was a quiet man he had a lot of good friends who enjoyed his company, as well as a family who loved him and misses him dearly.
Regards,
Geoff Palmer