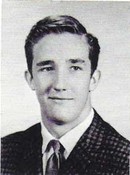 Mark Nathan Reade
October 9, 1945 - October 23, 2007
Mark Nathan Reade, loving husband, son, brother, uncle and brother-in-law, passed away Friday in Newport Beach, at Hoag Memorial Hospital Presbyterian
He died after a brave struggle against the very pancreatic cancer that would ultimately contribute to his death.
In the end, Mark left this earth the way he lived; surrounded by the friends and family that loved and cherished him.
Mark, the first child of Nathan and Thelma Reade, was born on October 9, 1945, in Fullerton California. He would be followed by three younger sisters , Carol, Susan, and Irene, who adored their older brother.
After graduating from the University of California and his beloved University of Oklahoma, where he obtained his doctorate degree, Mark touched the countless lives of his patients, and their children in his practice a s a Child Psychologist . His successes led him to his ultimate position as Director of Mental Health at the Scripps Health Care Facility in San Diego, where he remained until his passing.
In 2001, Mark met the love of his life, Heather Bernstein. Upon realizing that he had finally found his soul mate, they were married in 2003.
In addition to his mother, wife and sisters, Mark had an incredible presence in the lives of his Nieces, Melissa, Evelyn, and Elizabeth, as well as his nephews Andrew and Scott, and his brother inlaw Rick.
Although gone from this world he will always be held tightly in the hearts and souls of those who loved him.
Internment at 2:00pm at Magnolia Memorial Park in Garden Grove, Ca. A Memorial honoring Mark's life will be held Thursday at 4:00pm at St. Andrews Presybeterian Church in Newport Beach.
Published in Daily Pilot, October 23, 2007
Burial: Magnolia Memorial Park, Garden Grove, Orange County, California, USA