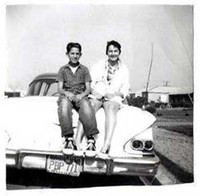 Norman "Chicki" Raciti passed away on February 2, 1998 in San Diego.
Photo from Bobbie Barker shows Chicki (left) with Bobbie Mossman Barker.
A relative of Chicki shared the following information:
I attempted to find out more details about Chickie's demise but without much luck. I believe it was about 30 years ago or so in a hotel in San Diego where he left this earthly plane.

He was always quick with a smile and made friends easily, unfortunately he misused his charm and intelligence, he could have done well in life.

Whenever I meet people from 40 years ago or so, Chickie is by far the one that people remember and ask about.