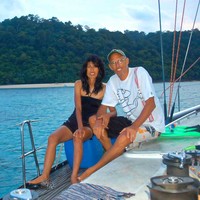 Jim Scudder
October 25, 1944 - May 16, 2018
Posted by Sim
22 years being Jim's wife, never a day he did not make me smile.
Spending time with Jim never got old. He believed that life was about living. He stayed positive and sought to enjoy all aspects of his life.
Jim was a selfless man. He lived to please those he cared most. Words like 'no', 'can't' are just not in his vocabulary.
Jim was a very kind and gentle person. He was smart and funny, and very forgiving of mistakes.
I am so lucky to have share this life with Jim.
Nothing breaks my heart more than having a world that no longer has Jim in it.
I am never ready to say goodbye to Jim and never will.
Rest in Peace my Dearest
Love you eternity
Born 10/25/1944
Died 05/16/2018
The above was posted by Jim's wife, Sim Scudder, on Facebook, May 16, 2018