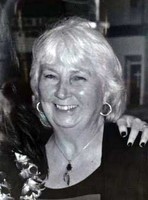 Cynthia "Cindi" Ann Smith Pearson
September 19, 1945 - February 14, 2016
Cynthia "Cyndi" Ann Pearson, 70, of Honokaa, died on Sunday, February 14, 2016 at the Life Care Center of Hilo. She was born on September 19, 1945 in Everett, Washington. She was a proprietress for housekeeping services and island resident for 25 years.
A Celebration of Her Life will be held from 1 to 4 p.m. on Sunday (Feb. 21, 2016) at the Waimea Nature Park located behind the Canada France building.
She is survived by, daughters, Lucyn (Peter) Wielgos of Newport Coast, California and Tiara (Evan) Hecht of Ocala, Florida; granddaughters, Amme Nylander of Los Angeles, California and Emma Nylander of Los Angeles, California; aunt, Erma Speer of Helena, Montana.
Arrangements by Dodo Mortuary, Inc. – Hilo Branch.
Published February 21, 2016 in West Hawaii Today
From Dodo Mortuary, Inc. & Crematory