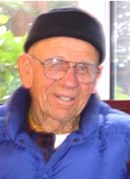 John Hinton McGowen
August 28, 1917 - December 7, 2017

John McGowen, at rest at the age of 100. John was born in Stockton, California to Arthur McGowen and Ada Hinton. His early years were spent on a ranch in Lodi, moving at age 10 to Stockton. John enjoyed a long history of sailing and boat building which included pre-war racing at the Richmond Yacht Club, Berkeley Yacht Club, Belvedere Corinthian and the St. Francis Yacht Club in San Francisco. John and his friends founded the Ionic Sailing Club, now called the Stockton Sailing Club. Sailing and boat building were his lasting loves, culminating in his designing and hand crafting a 40 foot schooner named Faith. John played football at the College of the Pacific under the "grand old man" of football, Coach Amos Alonzo Stagg during a time when the team traveled by train and boat to play Notre Dame, Michigan and Hawaii. He was selected as All Pacific Coast Guard in 1939-1940. John met the love of his life, Andree Robineau, while serving in the Pacific during World War II.
They married at the end of the war and remained together for the next 71 years. John returned home and obtained his Masters in teaching, spending his early teaching years at Newport Harbor High where he also coached football. He left Harbor High to become Vice Principal then Principal of the newly created Costa Mesa High School. John's parents were both educators and 2 of his sons as well as a daughter-in-law are public school teachers. John was an advocate for public school, development of our children and community service. He served his community with integrity and dedicated himself to being fair and seeking out the truth.
He never forgot our connection to the natural world, being an avid hiker and longtime supporter of California's system of natural parks and trails. He hiked parts of the Pacific Crest Trail each year until the age of 87. John is survived by his wife, Andree, his children, Pat, Steve, Michelle, and Paul, their spouses, his 5 grandchildren, and his legacy of wisdom and personal strength.
Memorial donations may be made to the Pacific Crest Trail Association 1331 Garden Highway Sacramento, CA 95833.
Published in Orange County Register on Jan. 21, 2018