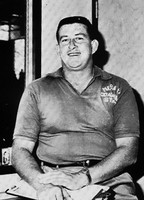 Donald Edward "Don" Burns
August 8, 1926 - November 13, 1993
Don E. Burns, a veteran teacher and a lifeguard who was once described as a "landmark, like the Newport Beach pier," is dead at 67. He had been a high school teacher and coach in the Newport-Mesa Unified School District for 31 years, and he was a Newport Beach lifeguard for 47 years.
Burns suffered a heart arrhythmia at 4:30 p.m. Saturday in Costa Mesa as he was leaving a gathering of friends. He was pronounced dead about an hour later at Hoag Hospital.
Burns had once said he never wanted to retire as a lifeguard, and he never did. He was still an active lifeguard teacher in Newport Beach at the time of his death.
"We all loved him; he taught many of us," Lt. Jim Turner of Newport Beach's Marine Department said. "Don Burns was a man who was always smiling and making people happy."
A native of Santa Ana, Burns spent most of his life teaching and as a lifeguard in the Newport Beach area. He received his bachelor's degree in education from USC in 1950 and a master's degree, also in education, from Azusa Pacific University in 1979.
Burns' teaching career included being a football coach at Newport Harbor High and later at Costa Mesa High, and a track coach at Estancia High. He taught high school math and physical education from 1953 until his retirement from Newport-Mesa Unified in 1984.
In a 1973 feature story about Burns that appeared in The Times, one admirer described him as being a "landmark" because he had been part of the Newport Beach scene so many years. At the time, Burns told an interviewer, "I trust the ocean, and I respect it. . . . I don't have any plan to retire" from being a lifeguard.
Survivors include his wife, Rose; a daughter, Kathy Burns of Covina; two sons, John of Costa Mesa and Don Robert of Cypress, and three grandchildren.
Funeral services will be at 11 a.m. Friday at Pacific View Memorial Park in Newport Beach.
In lieu of flowers, the family has requested donations to the Orange County chapter of the American Heart Assn.
By Bill Billiter. Published Nov. 15, 1993, Los Angeles Times