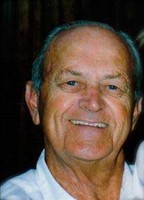 Jules Wallace Gage
December 14, 1921 - February 4, 2012
Gage, Jules Wallace, age 90 passed away peacefully at his home in Carlsbad, Calif. on Feb. 4, 2012.
He was born to Alan and Ida Gage on Dec. 14, 1921 in Sioux Falls, S.D. The family moved to Hollywood, Calif when Jules was 7. He is survived by Helen, his loving wife of 69 years and their 4 children: Pamela (Jack) Ferguson, Julie (Tom) Newton, Alan (Marian) Gage and Yvonne Gage.
After graduation from Hollywood High, Jules attended BYU where he was a pre-med student. When, his education was interrupted by WWII, he served in the U S Navy as a medic. After the war, he attended Santa Barbara Teachers college at UCSB.
Jules landed a job at Newport Harbor High and coached varsity basketball with an impressive record. After 10 years at NHHS, he helped build Costa Mesa High, where he was athletic director as well as varsity basketball coach. Jules had a positive effect on so many young lives, not only as a coach, but as camp manager, with Helen's help, of summer Y camps, one being Osceola, in the San Bernardino Mountains.
He was blessed with and loved by 9 grandchildren and 10 great grandchildren. Jules was a man with a big personality that touched many lives, while living life to the fullest. He will be missed in the community of Rancho Carlsbad where he spent the last 26 years.
A memorial service will be held at 2 pm on Sunday, February 26, 2012 at Rancho Carlsbad Community Center, 5200 El Camino Real, Carlsbad, CA. The family request that in lieu of flowers, donations can be made to the Disabled American Veterans at www.dav.org.
Published in Orange County Register on Feb. 10, 2012