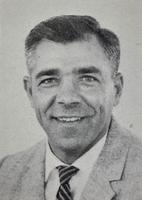 Stephen D. Jundanian
October 9, 1914 - May 1, 2010
Jundanian, Stephen Dickran, 95, died peacefully in Irvine on May 1, 2010 with his family at his side. Burial was at Pacific View Cemetery in Newport Beach. Born in Providence, RI to Armenian immigrants, he later served in the Army in World War II, fighting in the Battle of the Bulge.
He spent his career as a high school math teacher, first in Ohio and then at Costa Mesa and Corona del Mar High Schools. Former students still sought him out 40 and even 50 years after studying with him. He will be remembered for his integrity; keen intelligence; gentleness; unfailing good humor; and great wit.
He is survived by his wife of almost 67 years, Donna, of Irvine; brother, Richard, of Rhode Island; son and daughter-in-law, Dan and Linda Jundanian, of Riverside; daughter, Susan Jundanian, and son-in-law, Nick Kremer, of Aliso Viejo; and "children of the heart," Frank Marmolejo and PiLarr Capaldi, of Laguna Beach. His son, Brendan died in 1993. He was proud grandpa to Kristine and Karie Jundanian and Katie Gonzalez as well as nine great-grandchildren.
In lieu of flowers, donations to the Irvine office of the Alzheimer's Association or American Heart Association would be welcomed.
Published in Orange County Register on May 23, 2010.