Gail Bassett Parker
September 25, 1945 - September 21, 2012
Below is Gail with her husband Len and her only child, Chris.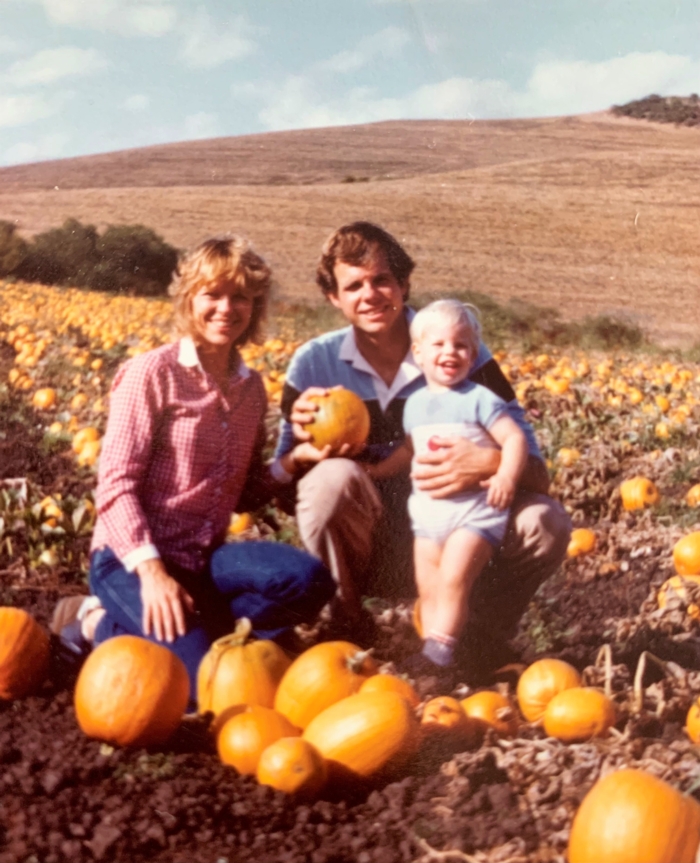 Here are some of Gail's thoughts and last wishes that her son Chris found amongst her papers.
Since responsibility for such things has never before fallen upon me, I've never before given much thought to what it means to specify your wishes for what you want after your death. I thought it was just "cremation vs. burial" and then the memorial service was basically standard stuff some minister was in charge of. Now that it is all completely agonizingly real to me, at every possible merciless level, I am now fully conscious of the meaning - and the opportunity - of specifying my wishes. Here they are.
Cremation, of course.
I do not want a standard memorial service. I do not want a rented room and facility. I don't forbid it, that needs to be clear, because if those left behind are at a loss as to how to have some gathering, they feel they [can't resolve that] need in any other way than renting the space to do it, then so be it, but I hope it doesn't come down to that.
Gathering at all is optional as far as I am concerned. I myself am not a gatherer. I am very much a solitary being who prefers my contacts one or two at a time. My mother's memorial service feels like a burden to me, a real stretch I'll make for others but god knows it's not for me.
What I've learned about the grieving process is that it's about unfinished business. That business is not necessarily with the deceased, but may only be triggered by that person. Many people may be sharing a common experience of Annihilating Agony of some sort, and that commonality may give them a sense of connection and therefore comfort, but as the lord giveth the lord also taketh away, and there is an equal feeling of aloneness and isolation in that the exact experience of each person's grief is unique. That's because each person's unfinished business is unique. And some people's unfinished business is probably with each other, and it's part of the Annihilating Agony to have that conflict and the unbearable pain of it sitting heavily and mercilessly on your tender, vulnerable, hurting self. It goes so far beyond sadness and missing that it's easy to feel guilty that your tears are really for yourself in very, very confusing ways.
My wishes are that people do private journeys into their unfinished business while they have the opportunity (burden) of riding that magic flying carpet of grief. It opens doors to your soul that have no other key.
Will you each please privately, alone with yourselves, light a candle for me - meaning do that for me because I asked you to - but the candle itself is for you, not me. What comes is my gift to you. You doing it is your gift to me.
If you wish to gather, please do so casually, with no program, no agenda, and no public address system. All I ask is that you be gentle and kind to each other. Let those who proceed to speak say whatever they want, no matter what, and let those who prefer silence be blessed for their privacy.
Here is the last photo taken of a Gail with her son Chris. It was taken on January 2020 when they made a trip to Point Lobos.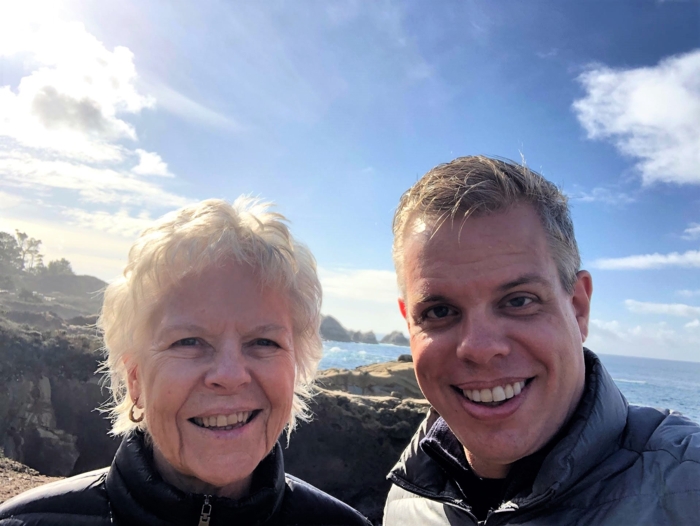 Cards may be sent to
Len Erickson,
P.O. Box 2905
El Granada, CA, 94018
Please light a candle!
Franie
---
All of the above was sent to me by Franie Overlees to share here.
(If anyone has some additional photos to share, please forward them to me.)
Larry
-----------------------------
Click on the link below, and from here, click on the link, "Show Gail's Profile Questions and Answers" where Gail shares some thoughts about her life.