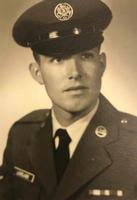 Bennie Lovelace
February 1946 - November 2019
In loving memory of a loving, playful thoughtful man, Bennie D. Lovelace. He loved baseball and was captain of his high school team and wento on to receive many honors in the Air Force,
He is survived by two sons, Christian and Brandon, a daughter-in-law, Rebecca and two grandchildren, Ian and Mckenzie Lovelace.
There will be a service held December 20th, 2 pm at Riverside National Cemetery. If you would like to attend, arrive 15 minutes early to meet at the entrance.
Riverside National Cemetery: 22495 Van Buren Boulevard, Riverside, CA 92518