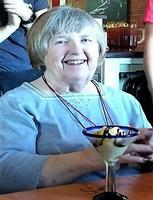 Claudia Joan (Ludlam) Ladwig
October 10, 1945 - February 27, 2020
Claudia Joan (Ludlam) Ladwig was born October 20, 1945 in Santa Ana, California and passed away peacefully on February 27, 2020 in Kingman, Arizona with her daughter Heidi by her side.
Claudia was born to William "Renny" and Marjorie Ludlam and has an older sister Pamela. Claudia grew up in Costa Mesa, California and attended Costa Mesa High School where she graduated in 1963. Growing up, Claudia took dance and gymnastic classes and later competed in roller skating competitions. In high school, Claudia attended her first summer camp where she fell in love with horses. By her late teens, she had her own horse named "Topaz" and Claudia said one day she would have her own ranch.
Claudia worked for the Orange County library system for several years before working for Fountain Bowl in Fountain Valley, Ca where she loved to bowl and made lifelong friends. After becoming tired of the big city, she decided to look for a quieter lifestyle away from southern Ca and in 1996, Claudia moved to Ashfork, Arizona to a 65-acre ranch where Claudia and her daughter ran an overnight stabling business for many people traveling the country and the world with their horses. Rocky Creek Ranch overnight boarding had many prominent horse owners and companies come through their ranch, including the Anheuser Busch Clydesdales. Claudia absolutely loved meeting people and their horses from all over the world. She made the ranch a safe and comfortable place for many couples and single women to stop safely with their horses on their journey through Arizona. During this time, Claudia also worked for Murphy's Chevron station in Ashfork and once again enjoyed meeting people from all over the world. She loved people, conversing with them and listening to their stories.
Throughout her life, Claudia married two wonderful men but the marriages didn't last and Claudia was content to forage on as a single, strong confident woman.
In 1998-1999, Claudia told her daughter she believed she had Parkinson's disease but refused any treatment until 2004 when she was officially diagnosed. In 2012, Claudia moved into assisted living in Prescott. She also lived in Flagstaff for a short time before ending up in Kingman, Arizona. Over the course of the debilitating effects of Parkinson's, Claudia never gave up her feisty, strong willed attitude. She gave many caregivers and nurses in the facilities a run for their money, including her sister, niece and daughter. She always had some advice to give, a look that demanded respect and a will to fight whatever came her way.
Claudia is preceded in death by her step daughter Alana Kampelman-Yomami, her parents William and Marjorie Ludlam and is survived by her daughter, Heidi Howard, her sister Pamela (Paul) Miles, niece Julie (Pat) Gallagher, several grandchildren, nieces, nephews and many friends. Mom, you will be missed. There will be no services per Claudia's wishes. Her ashes will be spread in a small family ceremony where she was most happy!
Published in the Williams-Grand Canyon News on April 7, 2020