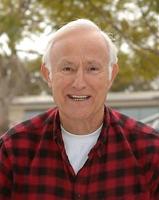 Bob Wetzel
1935 - 2022
Orange Coast College Athletics Hall of Fame coach, Bob Wetzel, who guided men's basketball in the late 1960s and also helped guide the Pirates to four men's volleyball state titles in the late 1980s and early 90s, died on Tuesday after a long battle with cancer at the age of 87.
Wetzel's time at OCC spanned five decades as a coach and as an athlete. Known primarily during his time as the head coach for men's volleyball, Wetzel helped pave the way for one of the most successful programs at the school. In 11 seasons as the head coach (1978-82 and 1987-92), Wetzel helped guide Coast to a 231-61 (.791 winning percentage) record, seven conference titles and four state championships (1987, 1989, 1990, 1991).
"I remember as a sixth grader going to my first-ever volleyball match at OCC with my team and I was in awe of the athletes on the court," OCC women's volleyball coach and former Pirate player, Chuck Cutenese said. "My coach knew Bob and after the match, he came over and told us, 'keep working and getting better and down the road, come play for me here at OCC.' I went to every game from that moment on and all I wanted to do was play volleyball for Bob at OCC. I also played for his son, Tim, so that made the connection even greater, but by the time I was ready to come to OCC, they dropped the program, so I went to Chapman for my freshman year. They brought the program back my sophomore year and I talked to my Chapman coach about going to Coast to fulfill that dream of mine. I did that and then went back to Chapman for my junior and senior years.
"When I first began coaching at Coast, I coached the women's program but shortly after Bob retired, I also took over the men's team. Bob was kind enough to stay around as an assistant and really helped me get acclimated to the job. He was the veteran, established coach on our bench, but he made sure to tell everyone that I was the head coach and he pointed people towards me, which I greatly appreciated."
In three years as the men's basketball head coach from 1966-1969, Wetzel posted a 58-38 (.604) record and two conference titles. His 1967-68 squad holds the school record in scoring with 3,404 points, which surpassed his 1966-67 team's total of 3,038 points -- the only two years of 3,000-point seasons for the Pirates.
Led by players like John Vallely and Bruce Chapman, Wetzel's 1967-68 Pirates averaged 97 points per game and won their second consecutive Eastern Conference title. Vallely went on to win two national titles at UCLA under legendary coach John Wooden, while Chapman played at UNLV and was drafted in the NBA by the Detroit Pistons. "We'd run and run and run. Our guys called it the vomit offense," Wetzel said in a Daily Pilot feature, honoring the coach and athlete on the paper's Millennium Hall of Fame in 1999.
"Bob Wetzel was a legend," current OCC men's volleyball coach, Travis Turner, said. "He was brilliant at managing people and inspiring his athletes. Looking back on my time with Coach, the thing that stands out the most was his understanding of the importance of team culture. The culture he created led to countless bonds and friendships that exist to this day. Wetz was a good one and he will be greatly missed."
In addition to his coaching career at Coast, Wetzel enjoyed a successful career as a Pirate athlete, playing baseball and basketball. He batted .434 for the 1955 Pirates with 30 RBI and 41 runs scored, helping OCC to a 21-7 record and a conference championship. His batting average was a school single-season record that stood for 16 years.
"I am so saddened to hear the news of the passing of Coach Wetzel," said Alan Knipe, a former Pirate player and current head men's volleyball coach at Long Beach State University. "He was so much more than just a volleyball coach to anyone who had the privilege to spend time with him. Even as an 18-year-old, I knew I was part of something special. Coach cultivated a culture that was much more like a D1 program than any other junior college program. He was not only a coach, he was a great mentor of life for young men. Without a doubt, Coach had a massive influence on many, many former Pirates, especially me! I send my love and prayers to his wonderful family at this very difficult time. I know Travis and the current OCC administration will do something special for Coach. I look forward to being there to celebrate this amazing man and his life."
Wetzel was honored by Orange Coast College when he was inducted into the school's Athletics Hall of Fame in 2011.
"Bob was a great people person, who really cared about his players and their lives away from volleyball," longtime volleyball coach and former assistant coach for Wetzel, Mike D'Alessandro, said. "Besides the fact that he cared about his players as much as he did, the main thing I took away from working with Bob was how competitive he was. He was athletic enough to be a professional baseball player, a multi multi-time national champion in racquetball, and even though he came to the sport a little bit later in life, he turned himself into an All-American volleyball player as well. He didn't really care what you were competing in as long as he could compete and he could give himself a chance to win, he was all in. That trait really carried over to the teams he coached who were consistently either winning the state championship or contending for it on a yearly basis. I'm really going to miss Coach and I'll always be thankful for having the chance to work with him, but most of all, I'll always be thankful for having him as a great friend for the last 30-plus years. I'm going to miss him quite a bit."
OCC Pirate Athletics on July 27, 2022