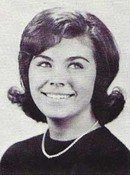 [Linda had originally posted this bio on the Class of 1962 webite run by Jim Scudder - Larry]
Okay already! Hi - it's me...Linda (Mixon) Stout, editor of the '62 yearbook. Married Alan Jones less than a year after I graduated in '63, had a handsome son who is 36 and a beautiful daughter who is 34 (Mark and Lisa). Mark is happily engaged to a lovely lady he's been living with for about 2 years in Big Bear Lake (they're planning their wedding to be this coming March/April). Lisa is happily married and has provided me with the most gorgeous and wonderful grandson in the world. Yes, the saying "My grandchild is cuter than yours" is true (chuckle :-) ) Alan and I threw in the towel; our divorce became final a few months after our 10th anniversary. Since then, I've managed to make a career of divorce (#5 will be final in November). Lost the love of my life (#4) to cancer 10/93 after having been together for 13 years. What a devastating disease!
Professionally, I've had a lot of fun! During the late 70's I was one of two female sales rep for sailboats in the entire U.S. God - how I learned to hate boat shows, hot dogs, hotels and hotel food! Got out of that business when all he-- broke loose with OPEC...couldn't get the resin needed to make the fiberglass hulls. The last company I worked for in that industry I was a "marketing consultant" for a world-class cruising yacht company...translation - got in TONS of sailing up and down the coast, did a lot of design work and had a lot of fun showing people how to live the good life plus also got great tans in the process! Also got in a TON of sailing with my #2/3 ex (yes-I married him twice!) as we lived aboard our Islander 36 the second time around in Dana West and were charter members of the Dana West Yacht Club that we formed so we could compete in the annual Newport/Ensenada races without all the hoity-toity types who belonged to the Dana Point YC. (Sorry if I'm stepping on any one's toes who do belong to DPYC).
Got into the construction business in 1980 as a staff accountant for a developer, climbed "the ladder" until I became Assistant Property Manager and then got an offer to change companies in '84 that I couldn't refuse for a wholly owned subsidiary of what was then McDonnell Douglas Realty Company. After a couple of years became the first - and only -female Director of Property Management and was responsible for a portfolio of 1.5 million square feet of prime mixed-use commercial office property in Irvine and Cypress.
In '90, I was diagnosed with a rare degenerative bone disease that I can neither spell nor pronounce. It's incurable and rapidly eating up my skeletal system. Around the same time I was also diagnosed with degenerative disc disease, had 3 spine surgeries and 5 discs removed plus have 6 more that have ruptured since. Since turning 17, have had a grand total of 28 surgeries and like the old Timex watch ads used to say, have taken my lickings but keep on ticking (aka kicking). After 12 knee surgeries inclusive of having one completely replaced, the only things I have trouble with is walking, sitting, standing and lying down. Good thing I'm as stubborn as I am because I refuse to give in to any of the stuff happening to my body! I mean, afterall, when one's soul is still 16, you can't give in to the "little" inconveniences life brings you!
Am working 3 days a week at present for an insurance agent. I am enjoying myself immensely because with 4 days off in a row, am able to spend many weekends with my grandson and at the beach (yeah - I still hang out at the pier in Newport and love it!).
All in all - life, if nothing else, has been a very interesting roller coaster ride...............and I wouldn't change a thing even if given the opportunity! I've been enjoying reading everyone's emails and also want to thank Chris for getting this tsunami started! Am also delighted to have discovered Classmates.com as I was finally able to track down my son's godparents - Tino Tovar and Carolyn Michelson. We've been in constant touch since then and have even managed to see each other a time or two. I swear - neither of them have aged one bit! Can't wait to see everyone in October!!

Best regards to all!
Linda (Mixon) Stout